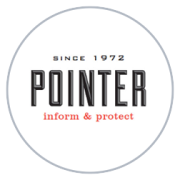 As you know we have worked in Oman for the past 10 years and decided to change our partner to Bondoni. Your team have shown a great deal of patience and understanding of our business, but most importantly have guided us in the most professional way towards the formation of our new entity in Oman. We look forward to continued success with Bondoni as our partner.
Pointer Security Country Director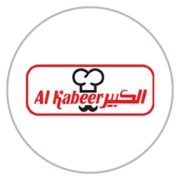 "We, Al Kabeer Group ME, started our engagement with Bondoni in September 2018, and have found the relationship to be nothing but professional and smooth in all aspects. Their team is always available and has been nothing but helpful We would not hesitate in recommending them to any company that is looking for an effective partner in Oman."
Mr. Joseph Feghali Owner and CEO of Feghali Group.
CEO Al Kabeer Foods.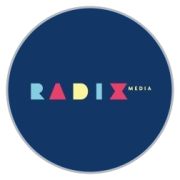 Reasons for engaging with Bondoni –We have had a seamless relationship ever since we partnered with Bondoni. The transparency exhibited when we set up the company and the extremely professional approach in any given situation has been the highlight of this relationship. Reasons for recommending Bondoni to clients – We have been doing business in the region including Oman over 2 decades and have had trusted sources and contacts in Oman. In our new journey we were exploring options to change and during our search for a new partner we found Bondoni as a thorough professional organization and the hunger to grow mutually rewarding; hence we opted to partner with Bondoni. Views on Bondoni support and communication during the Covid crisis. – Timely market intelligence and insights that helps us make decisions in addition to Bondoni being very supportive, flexible and understanding in managing the below areas during the Pandemic. Management support by Salim al Saqri has been fantastic and he will not leave any stone unturned to accomplish a given task.
CEO & CFO

Radix Media (Mena)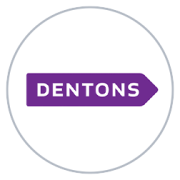 "We regularly refer Bondoni to our client base as a trusted, reliable and pro-active corporate partner. The leadership team has deep knowledge of the Omani corporate market and excellent and longstanding international business experience. We find this provides our clients with a degree of comfort that they would struggle to find elsewhere in the market".
Dentons

Managing Partner and Associate Partner.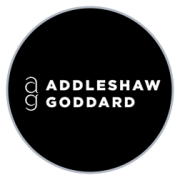 Addleshaw Goddard Oman and Bondoni have worked together for a number of years. We do not hesitate to introduce our clients to Charles Shaw and his team as we believe the services Bondoni offers are unrivalled in the Sultanate. In our experience, the team is very helpful, professional and responsive and has assisted a number of our clients to successfully navigate their entry into Oman. Charles is well known and has a strong reputation in the market. He has also managed to review and reinvent the services offered by Bondoni to help ensure continued good value for money to his clients following the recent changes in the foreign investment law and the current pandemic.
Addleshaw Goddard Head of Corporate Oman
Simply amazing!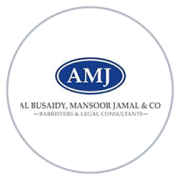 Bondoni provides a variety of business setup and related long term outsourced services with a degree of excellence and professionalism which has become synonymous with the name Bondoni. Internationally, it is viewed as being a reliable, responsible and secure partner to work with, possessing a deep knowledge of the market and the economic forces that drive Oman, able to advise and support new entities seeking to find a foothold in a new market. Through its expertise, it is able to provide support to its clients and meet their requirements at every level, be it administrative, operational or managerial.
Consultant Lawyer Al Busaidy Mansoor Jamal & Co Lawyers
Simply amazing!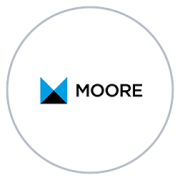 We have always found Bondoni to be consummate professionals at all times and a pleasure to work alongside. I would not hesitate to recommend Bondoni to clients and contacts wishing to establish business here as Bondoni amongst other things: – Exhibit incredible integrity – Have great knowledge of Oman and doing business here – Have built a strong record of success and are a trusted brand in Oman – Have established a large, reputed client base Are able to help new businesses start quickly and effectively up
From Moore – Oman Country Partner
Simply amazing!
When asked by a major American company how best to get established in Oman, I immediately recommended Bondoni because I had complete confidence in the leadership's knowledge of Oman and Omani procedures. I knew that Bondoni would provide the best customer service as well as competitive pricing. Indeed, the U.S. Embassy Commercial Section routinely advises American companies looking to get established in Oman to engage Bondoni. In the case of the major American company mentioned earlier, Sir Charles is developing new services specifically suited to the company's needs. That's exactly the kind of excellent customer service and understanding of the environment that a company entering the Omani market needs, especially when the company has limited experience operating abroad.
Ambassador (retd) American Ambassador, Oman
Simply amazing!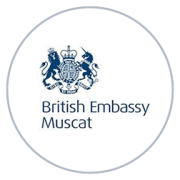 The Department for International Trade at the British Embassy Muscat is very fortunate to have a close working relationship with Bondoni and has no hesitation in recommending Bondoni to UK companies interested in establishing a presence in Oman. Feedback from UK companies on Bondoni's services is very positive, focusing on the in-depth knowledge of the market that it shares with clients based on many years' experience of the benefits and pitfalls of establishing a presence in Oman, the strength and breadth of Bondoni's networks and, in recent times, adding new services to its portfolio to keep your in-step with new laws such as the FCIL in Oman. As a government department, we value hearing your insights and perspectives on the market especially in these current times of change, due not only to Covid-19 and the economic shock it brings, but also the new leadership of Oman and the impact of that change in leadership on government policy.
Head and Deputy Head of the Department of Trade, British Embassy, Oman.
Simply amazing!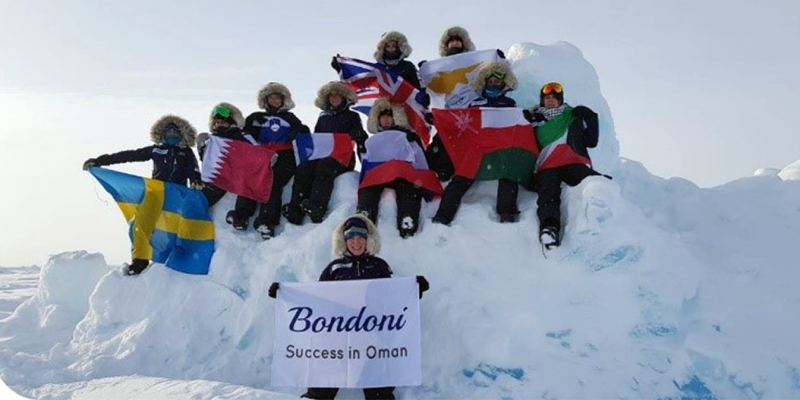 Anisa Raissi – First Omani ever to walk to the North Pole Sponsored by Bondoni Charles Shaw completed a similar expedition in 1997! "Some men see things and ask why. Others dream things and say why not." – George Bernard Shaw
Bondoni's support for me was more than just financial. It was that and more than I could ask for – gaining a mentor and a coach who provided invaluable advice on facing the extremes of the north. Bondoni didn't pay money to see me believe in myself – they believed in me.